Doughty's Almshouse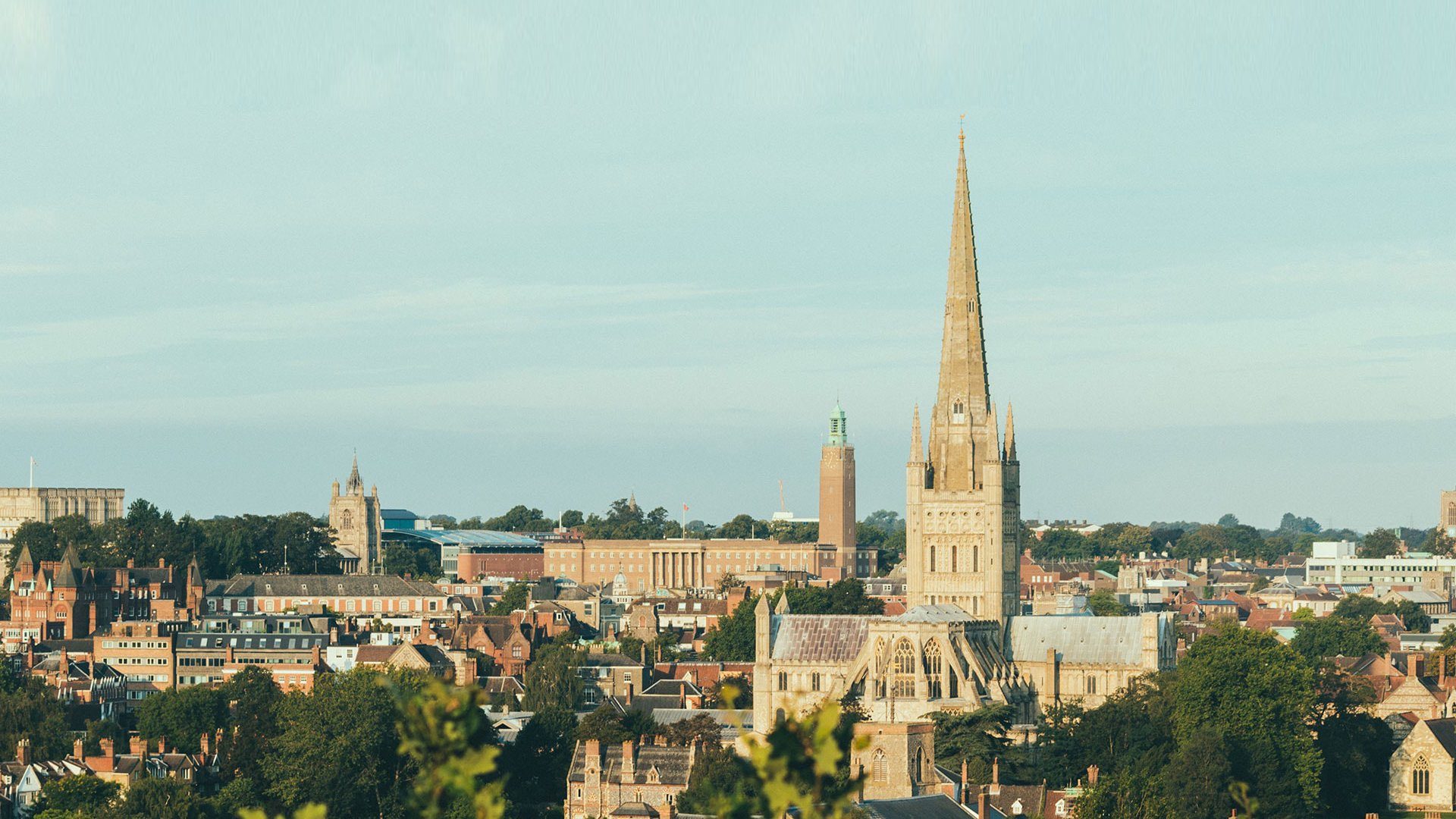 About Doughty's Almshouse
Doughty's is an historic Almshouse which was founded in 1687 and is a part of Norwich Consolidated Charities.  We provide housing with extra care and support to older people in 57 modern, self-contained flats, with access to beautiful gardens and communal areas.  Our residents can choose to use various additional supporting services to meet their requirements and to continue to live independently in their own home at Doughty's for as long as possible.
Doughty's purpose
"To enable our residents to enjoy a high quality of life, living independently in their own home for as long as possible."
We strive to help residents to achieve this by:
Providing easy access to high quality practical and moral support and, if and when necessary, direct care.
Providing a high-quality, well-maintained, safe and secure physical environment.
Valuing our residents as equal parts of an active community.
Providing opportunities to engage in social contact and activities.
Respecting the individuality and dignity of each of our residents.
Actively seeking and taking into account the views of our residents to improve services.
Accommodation
At Doughty's we have 57 self-contained flats, some of which can accommodate a couple, plus one guest flat for the use of relatives or friends of residents.  All flats comprise:
A bedroom
A sitting room
A kitchen with a cooker and fridge-freezer provided
A bathroom with a bath or shower (we will convert baths to showers for new residents on request)
Access for people with disabilities
Many of our flats have level-entry access, others are on the first or second floors.  In the latter cases there is either a lift or a stair-lift giving access to each floor.  Our more recently built flats have full wheelchair access.
Services available to our residents
A 24-hour support and care service.  Use of this service can vary from a brief daily contact to check that 'all is well' to a much more comprehensive service including a full package of care for a resident with more requirements.
An optional Monday-Friday mid-day meals service with meals prepared on-site in our own kitchen and delivered to your door by our staff.
Optional weekday cleaning and laundry services for residents who cannot or do not wish to carry out these tasks themselves.
Our own in-house maintenance service to carry out preventive work and to respond to minor maintenance issues as they arise.
Other facilities on site
Our 'Reading Room'.  This is a large communal room, complete with attached kitchen, used for social functions and meetings.
A launderette
Our beautiful gardens for walking and relaxation
Our own Doughty's kitchen with our dedicated cook and catering team
Our Pamper Room including state of the art bath, chair-lift and enclosed wet room
Our minibus to transport you, if you wish, to various activities and on outings
Domiciliary Care
The aim of our in-house Domiciliary Support and Care Service is to provide easy access for our residents to high quality practical and moral support and when necessary, direct care based on their wishes, requirements and way of life.
In order to achieve this we:
Develop and agree an individual person-centred support and care plan with the full involvement of each resident.
Regularly review and assess individual resident's requirements for care and support in conjunction with them and, with their consent, their relatives or other appropriate representatives.
Deliver high quality services in residents' own flats which aim to meet their assessed and agreed requirements.
Evaluate the effect of the care and support we provide to each resident, taking the resident's own views and opinions fully into account.
Revise the individual care and support plan and modify our services accordingly, with the full involvement of the resident, in the light of their changing needs and of the evaluation of services delivered.
Our Support and Care service is provided by experienced, training and qualified Doughty's staff,  There is always a Team Leader on duty, 24 hours per day, every day of the year.  They are responsible for ensuring that our team of carers deliver an appropriately high-quality service during their shift.
Assured quality of the service
The service is registered with the Care Quality Commission and, as such, has to meet national regulatory standards.  The CQC carries out periodic inspections against these standards and publishes its findings.  However, it is the responsibility of our staff and managers to assure the quality standards on a day-to-day basis and of our trustees to oversee this in the best interests of our residents.
You can see the result of the latest inspection of our service by CQC and the certificate that they have given to Doughty's here.  Our current CQC rating is Good in all areas.
Social activities
Our residents enjoy many and varied social activities – mostly arranged by residents themselves and the Residents Social Committee.  Whilst there is no obligation to take part, these are very popular and part of providing a real community at Doughty's.
Residents' Association
Doughty's Community Club is run and managed by our residents through their elected committee.  All of our residents can choose whether or not to become a member of the club.
Management
The management team at Doughty's is led by our Almshouse Manager who is, in turn, accountable to the Chief Executive of Norwich Charitable Trusts.  Our board of trustees oversees their work through the Almshouse Committee.
Contact details
Address:
Doughty's 10 Golden Dog Lane Norwich NR3 1BP
Telephone:
01603 621857
E-mail:
admin@doughty's.org.uk
Transport to Doughty's
By bus
Numerous bus services run up and down Magdalen Street, stopping at Anglia Square, 5 minutes' walk from Doughty's.
By train
Doughty's is a 15-minute walk from Norwich train station.
Car parking
Colegate Car Park, which is pay and display, is adjacent to Doughty's
Applying to live at Doughty's
Who may become a resident?
In order to become a resident at Doughty's you must meet all of the following criteria:
Be at least the age to qualify for the state pension
To have lived within the boundaries of the City of Norwich for a least 4 years immediately prior to applying to us (this will mean that you have paid Council Tax to Norwich City Council for this period of time)
To have a low income and limited financial assets
Who assesses whether Doughty's would be suitable to meet my needs?
Our Almshouse Manager and other relevant staff will meet with you.  They will provide all of the information and guidance that you require and then will review your completed application in order to ensure that Doughty's in appropriate to and able to meet your needs.
What are the financial criteria for eligibility to become a resident?
Our criteria for determining financial eligibility are based on the thresholds for receiving housing benefit form the local authority.  These apply to income, savings and other assets.
How are these financial criteria assessed?
As part of your application we request you to supply supporting financial information.
If I became a resident at Doughty's, would I be able to stay in my flat without moving home again?
We aim to provide a home for life for our residents. If however, you are no longer able to live independently or if in the opinion of the Almshouse Manager, advised by his staff and other professionals, it becomes unsafe for you to continue to live in your own flat, even with the level of care and support which we can provide from our Domiciliary Care team, we will then discuss with you alternative options for the future.
How to apply to move to Doughty's
Make initial contact with us by telephone on 01603 621857 for an informal chat or e-mail us at admin@doughtys.org.uk
Come to visit us at Doughty's to see the site and to meet some of our staff team.
Have a discussion with us about your needs and expectations of our service.
If you feel it is right to progress your application, we can give you a pack to complete in order to apply to join our waiting list.
The final decision about offering you residency in on of our flats will then be made by our Almshouse Manager and their team.
A brief history of Doughty's
'Doughty's Hospital' was established following a bequest from merchant William Doughty, who died in 1688.  He left a sum of money to buy a plot of land on which to build Almshouses for "24 poor, old men and women" who lived in Norwich.
The oldest buildings at Doughty's, called 'Doughty's Cottages', were built in 1687.  Over the years Doughty's (we removed the word 'hospital' from the name in order to avoid any confusion as to its purpose and the type of services we provide) has grown and many improvements have been made.  There are now seven buildings set in beautiful grounds with the more recent having been built in 2015.
Although "Doughty's Hospital" was originally run by an independent charity, some years ago this merged with several smaller charities to become Norwich Consolidated Charities.  Norwich Consolidated Charities is also part of a larger grouping of three independent grant-making charities (Anguish's Educational Foundation, Norwich Consolidated Charities and the Norwich Freemen's Charity) known as Norwich Charitable Trusts.